If you need any tooth-shaping to anchor your cantilever dental bridge, your dentist will give you a local anesthetic to prevent pain or discomfort during the procedure. Most people have very little pain after the cantilever bridge is put into place. If you are experiencing pain, dentists usually recommend over-the-counter ibuprofen (Advil or Motrin).

Continue Learning about Dental Bridge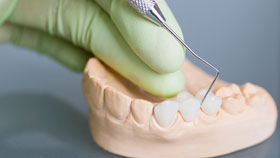 A bridge (also called partial dentures) replaces missing teeth with artificial teeth and literally bridges the gap where one or more teeth may have been. Without a bridge, your other teeth can slowly shift out of their natural pos...
ition, leading to potential future problems with your bite.
More