A cantilever dental bridge is a fixed dental bridge that is permanently attached to only one tooth. A cantilever bridge is used when you are missing one or two teeth and have only one tooth next to the gap.

Continue Learning about Dental Bridge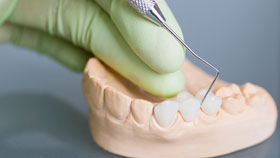 A bridge (also called partial dentures) replaces missing teeth with artificial teeth and literally bridges the gap where one or more teeth may have been. Without a bridge, your other teeth can slowly shift out of their natural pos...
ition, leading to potential future problems with your bite.
More