Mild cognitive impairment (MCI) is considered a transitional state between the occasional forgetfulness that often accompanies normal aging and dementia. At least one cognitive (thinking) domain -- usually memory -- is below normal or in decline. When memory is affected, the condition is called amnesic MCI. Although some people with MCI remain stable for years or even improve, studies show that the majority, especially those with amnesic MCI, eventually develop dementia.
Mild memory impairment, or more formally, mild cognitive impairment, is serious, but not fatal. Mild cognitive impairment is characterized by completely forgetting whole sequences of events in which you have actively participated. This can be embarrassing, or worse.

What happens in minor cognitive impairment is that the brain participates in the actual experience but no memory trace is laid down. It is somewhat like not pressing the "enter" or the "save" button on your computer. If such a situation occurs more than once or twice, you should undergo a thorough memory evaluation by a specialist in memory disorders, someone beyond your primary care doctor.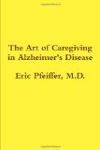 More About this Book
The Art of Caregiving in Alzheimer's Disease
This is an A to Z Guide to the caregiving experience in Alzheimer's disease. It is easy to read, easy to follow. It is authorative, based on thirty years of experieReconce in caring for Alzheimer's...
Continue Learning about Dementia