When a bony growth (bone spur) or overgrown ligament presses on the spinal cord, symptoms of a nervous system disorder called myelopathy develop. You may have weakness, numbness and difficulty walking. It is important to see a spine surgeon for a formal evaluation if you have these symptoms.
In rare instances, when bone or disc degeneration becomes severe enough to dramatically narrow a spinal opening (a condition known as spinal or foraminal stenosis) or a disc herniation becomes large enough, relentless pressure can be put on the spinal cord or spinal nerve roots. This condition is characterized by almost constant pain in one or both arms or legs with numbness, tingling, and loss of strength.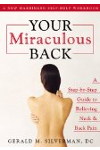 Continue Learning about Degenerative Spinal Disease
The term degenerative spinal disease does not refer to any one disorder of the spine, but is a general term that covers many types of disorders that cause wear and tear on the bones and tissues of the spine. This kind of spinal pr...
oblem is usually part of the normal aging process, but many people are more prone to spinal problems than others. Some common degenerative spine disorders are herniated disc (sometimes called slipped disc), a condition in which there is a bulge or a rupture of a disc that pushes against the spinal nerves. With the nerve compression comes pain and possibly numbness. Herniated disc can improve on their own, or you may need surgery. Spinal stenosis is another common back problem. This is a term that describes narrowing of the spinal canal and a build up of tissue that causes pain, stiffness and difficulty walking and moving around. See your doctor to determine the best treatment for your degenerative spine disease.
More