The dandelion is a perennial plant with an almost worldwide distribution. While many individuals consider the dandelion to be an unwanted weed, herbalists all over the world have revered this valuable herb. Its common name, dandelion, is a corruption of the French for "tooth of the lion" (dent-de-lion). This name describes the herb's leaves, which have several large, pointed teeth. Its scientific name, Taraxacum, is from the Greek taraxos (disorder) and akos (remedy). This alludes to dandelion's ability to correct a multitude of disorders. A hardy perennial, which grows in all temperate areas of the Northern Hemisphere, dandelion reaches 3 to 35 cm in height. It is easily recognized by its deeply toothed, hairless leaves, measuring 5 to 30 cm in length and 1 to 10 cm in width, which form a rosette at ground level, and the single golden yellow flower that emerges from the rosette's center on a straight, purplish, leafless, hollow stem. The flower, which is actually a collection of tiny florets, appears from early spring until late autumn. When the florets mature, they produce downy seeds that are easily dispersed by the wind, giving rise to dandelion's aliases of "puffball" and "blowball."
Although its flowers are most evident in early summer, dandelion may be found in bloom, and consequently prolifically dispersing its seeds, throughout most of the year.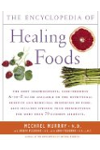 More About this Book
Encyclopedia of Healing Foods
From the bestselling authors of The Encyclopedia of Natural Medicine, the most comprehensive and practical guide available to the nutritional benefits and medicinal properties of virtually everything...
Continue Learning about Dandelion