Wild dandelion is plentiful in most parts of the United States. Dandelion greens are often available commercially as well, especially at open markets and health food stores. The fresher the dandelion, the better. Though dandelion greens are available until winter in some states, the best, most tender greens are harvested early in the spring, before the plant begins to flower. Cultivated dandelion greens sold in markets are typically longer, less bitter, and more tender than their wild cousins. Choose brightly colored, tender-crisp leaves; avoid those with yellowed or wilted tips or brown spots. Usually, the lighter green the leaf, the more tender the taste.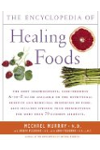 More About this Book
Encyclopedia of Healing Foods
From the bestselling authors of The Encyclopedia of Natural Medicine, the most comprehensive and practical guide available to the nutritional benefits and medicinal properties of virtually everything...
Continue Learning about Dandelion