Circuit training is a great way to work both a cardiovascular and strength training session into a short time frame. For most cyclists, putting on a lot of muscle during their weight training session is not the goal. A cyclist does want to get stronger, but conditioning the is key to success. Circuit training is a good way to get the needed strength while continuing to build on your cardiovascular fitness. Due to the already high demands placed on the legs while cycling, the circuit programs should limit lower-body exercises except for some power exercises that will help in climbing hills or passing another cyclist in a race. The upper-body exercises should focus on the larger muscle groups with exercises that will keep you in good form. The circuit should be short, with limited rest and high repetitions. Using medicine balls, exercise bands, and dumbbells will improve core strength as well as allow for creativity in the exercises, enabling you to move from one exercise to the next quickly.
Continue Learning about Cycling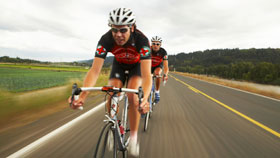 Cycling is one of the best forms of aerobic exercise and doesn't put a lot of stress on your joints. And studies have shown that riding a bike for as little as five minutes a day can help you control your weight. Learn more about ...
cycling from our experts.
More