Choosing an appropriate amount and type of carbohydrate to improve performance and avoiding GI Distress while still providing an appealing taste is a balancing act. Many carbs cause GI distress which alone will decrease performance. Ideally, glucose, maltodextrin or fructose are the sugars of choice. Many sports drinks will include fructose in the ingredient list, this sugar should be avoided in large quantities as it has a tendency to cause GI distress. The sugar must first be converted to glucose creating more work for the body to break it down. Fructose has the benefit of helping absorption of other sugars along with increasing the efficiency of replenishing liver glycogen (sugar). Besides carbohydrates, a sports drink should also include sodium. Sodium improves the taste of the drink, helps drive the thirst mechanism, promotes fluid absorption and maintains plasma volume. Most importantly sodium is necessary for carbohydrate absorption and glycogen re-synthesis. It is clear that sodium is a vital part of a sports drink and athletic performance. Sodium is released from the body by sweat. Therefore, it is necessary to replenish those lost stores. Sodium Chloride, sodium citrate, and sodium acetate are some of the common forms of sodium found on the nutrition label. Consuming sodium in a sports drink equal to the amount lost in sweat while exercising helps prolong exercise duration. It is thought that potassium plays an important role in improving performance as it has been theorized that potassium losses increase muscle cramping. This, however, has never been established as accurate.
Continue Learning about Cycling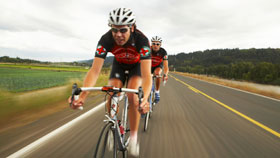 Cycling is one of the best forms of aerobic exercise and doesn't put a lot of stress on your joints. And studies have shown that riding a bike for as little as five minutes a day can help you control your weight. Learn more about ...
cycling from our experts.
More