Bodyweight Lunges. An easy way to get a good lower body workout that will help to maintain strength and power is with lunges. Using bodyweight to start will ensure the body gradually adapts to the workload, but there are many ways to progress these into more powerful movements that will continually stress the body and improve lower body strength and power. Starting Position: Stand tall, in an athletic stance, with your feet hip width apart. Movement: In a controlled movement, take a big step forward and sink straight down to the floor, allowing both knees to bend to approximately 90 degrees. Do not let your knee touch the floor, but descend to a comfortable position that allows your hips to stay level throughout the movement. Return Movement: Slowly return to the starting position. Variations: You can progress to weighted lunges, jumping lunges (in place), lunges on an unstable surface, and jumping step ups. Repetitions/Time: 3 sets of 12 repetitions for each leg. Rest 30 seconds to 1 minute rest between sets.

Continue Learning about Cycling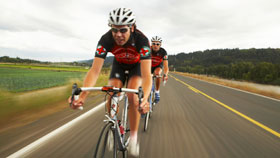 Cycling is one of the best forms of aerobic exercise and doesn't put a lot of stress on your joints. And studies have shown that riding a bike for as little as five minutes a day can help you control your weight. Learn more about ...
cycling from our experts.
More