The best way to approach a hill is to maximize forward momentum and carry your speed as far up the hill as you possibly can. In order to do this, increase your cadence as you approach a hill. Your cadence should be as close to 100 as you can get without bouncing on the saddle. Make sure to utilize your gears to keep the cadence up as high as you can for as long as you can, but watch out for chain-cross or dropping your chain. You should avoid shifting from one extreme to another. In other words, don't shift from your easiest cog in the rear and your hardest gear in the front, to your small chain ring in the front and the easiest cog in the rear. Instead, bring the rear gear back to the middle of the range before shifting out of the biggest gear in the front. This will keep the chain more in alignment and will prevent the chain drop. It is important to shift from the middle of the range when altering gear selection. Once you crest the hill, make sure to finish the hill. This entails pushing that extra little bit right at the crest of the hill so that you carry your momentum over the top. This way you will be able to return to your optimal gearing and speed as quickly as possible. Many riders get near the top of a hill and ease off, thinking they have made it safely; however, this is not the best way to approach the top of a hill. Instead finish each hill with a little acceleration over the top to carry that momentum on the way down.
Continue Learning about Cycling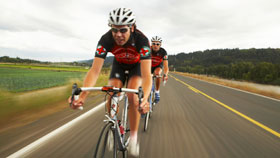 Cycling is one of the best forms of aerobic exercise and doesn't put a lot of stress on your joints. And studies have shown that riding a bike for as little as five minutes a day can help you control your weight. Learn more about ...
cycling from our experts.
More