Cycling is one of your best forms of cardiovascular activities that can be performed on a daily basis. Much of the reasoning for its benefits includes the little amount of impact on your knees. Cycling will never fully lock out your knees which will prevent undue stress. Also, increased core strength will result from holding yourself in a set position for a prolonged period of time. Your abdominals including your lower back must be engaged to keep you body in proper alignment during your bike ride. Most of all, you get to enjoy a nice breeze even on a hot day because the harder you push, the more of a breeze you are able to create.
Because your weight is supported by the bike, you can elevate your heart rate without the pounding associated with activities such as jogging. Thus cycling is an excellent activity for anyone just getting started or anyone with injuries that might make walking or running difficult or painful. Cycling works all of the muscles of the lower body, particularly the thighs. This makes cycling a good complement to running or walking, which tend to work the hamstrings (the muscles in the back of the legs) more. The improved muscle-strength balance that results tends to reduce the risk of injury, particularly to the knees.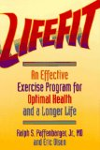 Continue Learning about Cycling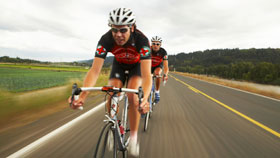 Cycling is one of the best forms of aerobic exercise and doesn't put a lot of stress on your joints. And studies have shown that riding a bike for as little as five minutes a day can help you control your weight. Learn more about ...
cycling from our experts.
More