Adjust your helmet correctly: Your helmet can save your life, but it has to be worn properly to do so. It should be snug to your head, but not uncomfortably tight. The straps should be adjusted so you can't lift the helmet off your head when buckled, but again not overly tight. And the front of the helmet needs to protect your forehead, so the bottom edge of the front of the helmet should be about 1-2 inches above your eyebrows, not rotated back toward the top of your head. If you're uncertain about the fit of your helmet, visit your local bike shop before your next ride. Keep eating and drinking: Most people think of eating and drinking in terms of performance on the bike, but it's even more important for safety. When your blood sugar is low and/or you're dehydrated, your reaction times are much slower and your ability to make decisions is diminished. Drink at least one bottle of fluid per hour and consume 30-60 grams of carbohydrate each hour in order to keep your energy levels up and stay alert. Keep your bike upright through sand, dirt, or water: If you encounter sand, dirt, or water, the safest route through it is a straight line. If you encounter these conditions in a turn, slow down before you reach the corner and keep your bike more upright instead of leaning into it like you would on dry, clean pavement. Keep your upper body relaxed: The more rigid your upper body (shoulders, elbows, wrists), the less stable you are on the bike. You'll find the steering skittish and harder to control, which typically makes you tighten up even more, and leads to even more problems. Bend your elbows, drop your shoulders, and maintain a firm but gentle grip on the handlebars. The bike will ride more smoothly and you're steering will be less effected by small bumps in the road or from a rider next to you.
Continue Learning about Cycling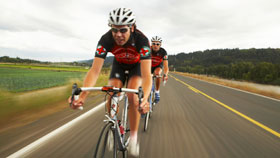 Cycling is one of the best forms of aerobic exercise and doesn't put a lot of stress on your joints. And studies have shown that riding a bike for as little as five minutes a day can help you control your weight. Learn more about ...
cycling from our experts.
More