When an individual begins a low-carb diet, their glycogen stores will decrease, which in turn results in a loss of water weight. The initial rapid weight loss associated with these diets is mostly water weight. As an athlete, a low carbohydrate is not the way to lose weight. By replacing carbohydrates in your diet with high protein and fat foods, you are sacrificing your most efficient dietary fuel source. It is guaranteed that soon after adopting this type of diet, you will notice a decrease in your energy levels, along with the power you are producing on the bike. Sadly, there is no magic answer for losing weight. It is merely a mathematical equation: The total Calories you consume needs to be less than the total Calories you expend each day. Losing weight in target areas just isn't realistic, and actually requires whole body fat loss. As an athlete, cutting back on Calories too much will result in decreased athletic performance and ultimately a decrease in metabolism. Instead of focusing on restricting one type of macronutrient (which include Carbohydrates, Proteins and Fats), your focus should be on obtaining Calories from nutrient dense foods, while monitoring the total amount of Calories that you are ingesting each day. For an athlete, cutting out the most efficient energy source would not be a smart move.

Continue Learning about Cycling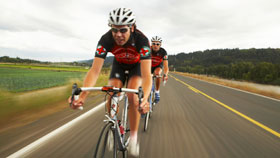 Cycling is one of the best forms of aerobic exercise and doesn't put a lot of stress on your joints. And studies have shown that riding a bike for as little as five minutes a day can help you control your weight. Learn more about ...
cycling from our experts.
More