You will want to progressively increase both the distance and intensity of your cycling in order to improve your performance. Initially, begin your training at a lower intensity such as 60 - 75% of your heart rate maximum (MHR) for 20 minutes. As you are able to accomplish the recommended duration, you can then begin to increase your cycling training sessions up to 60 minutes. Once you have reached 60 minutes, you will want to begin to incorporate interval training at higher intensities (80 - 85% MHR and progressively 86 -90% MHR), while recovering at your lower intensity of 65 - 75% MHR. Incorporating the use of interval training will improve your recovery rate which will better support your efforts on long distance rides.
Continue Learning about Cycling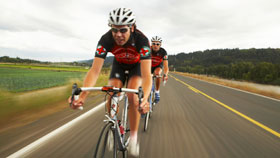 Cycling is one of the best forms of aerobic exercise and doesn't put a lot of stress on your joints. And studies have shown that riding a bike for as little as five minutes a day can help you control your weight. Learn more about ...
cycling from our experts.
More