You may want to check if your feet and knees have an outward rotation when you are standing or squatting. Look over the top of your knee to your toes when squatting (make sure your feet and knees are straight ahead like you're skiing, shoulder width apart), if the knee is over the big toe or inside of the big toe, you have an outward feet rotation. This dysfunction (lower extremity movement impairment syndrome) can lead to misalignment in the hip joint and pelvis, causing your cycling pain. You should see a NASM CES Trainer for a total body assessment.
The most likely explanation is that the bursae overlying the sit bones are inflamed. Increased friction from ramping up your cycling may have irritated the bursae causing a painful condition known as ischial bursitis. To help avoid this, increase your seat time slowly to allow the body time to adapt to the new stresses placed upon it. Stretch the muscles that surround the hip (statically stretch the hip flexors and piriformis) to help decrease the friction over the bursae. Apply ice to the painful areas to control the inflammatory process. Finally, make sure you have adequate cycling gear (comfortable seat, good bike shorts) to prevent injury.
Continue Learning about Cycling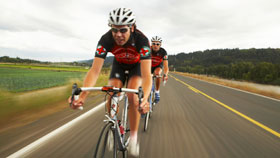 Cycling is one of the best forms of aerobic exercise and doesn't put a lot of stress on your joints. And studies have shown that riding a bike for as little as five minutes a day can help you control your weight. Learn more about ...
cycling from our experts.
More