One of the most important things to know before trying an indoor cycling class is that you have full control over the intensity of the class! There are two ways to increase intensity during indoor cycling. One way is to increase the resistance, by turning up the resistance knob. The other way is to increase your speed/cadence, by peddling faster. So many people stay away from Indoor Cycling because they're afraid it will be too difficult. But really, the great thing about an Indoor Cycling class is that each individual in class has the power to make the class as hard or as easy as they want/need it to be. Don't be afraid to join an Indoor Cycling class, and don't forget to pace yourself, so that you'll be willing to do it a second, third, fourth....time.
Indoor cycling classes are a great way to stay motivated while getting a good cardiovascular workout. Before starting a class you should see what level the class is and how that level is determined. Since you are just beginning, you need to make sure the class intensity is right for you or if the instructor will have modifications for you. Many instructors will talk the clients through the class and will tell them how hard to push in each phase of the class. They may tell advanced students complete a maximum effort sprint while you, as a beginner, will just add some resistance to the bike to push your heart rate up a little as you get used to the program. Finding an instructor that will help all levels in the class is the key. It is also important when starting a cycling class that your seat and handlebars are fitted for you. Again, a good instructor will be able to help with this. Make sure you have a slight bend in your knees when the pedals are closest to the floor and that the handlebars are high enough to keep a straight back. You do not want to bend over at the shoulders or put too much pressure on the handlebars. Be sure to stay well hydrated, as most indoor cycling classes are in a small room and it can get very warm.
Continue Learning about Cycling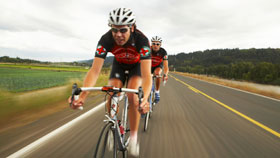 Cycling is one of the best forms of aerobic exercise and doesn't put a lot of stress on your joints. And studies have shown that riding a bike for as little as five minutes a day can help you control your weight. Learn more about ...
cycling from our experts.
More