Interval training is a very effective way to improve your cardiovascular system and leg strength for biking. This can be done outside on your bike by first determining the goal of the interval. If you are looking to improve cardiovascular strength or speed, find a flat area to perform repeated speed intervals followed by a safe place to recover. Look for a distance that you can cover in about one minute. Do repetitive intervals at this distance while trying to improve your times. You should focus on technique as well as the power that you can generate. If the goal is leg strength, find a hill that will take five minutes to climb. Try to climb the first four minutes at a steady pace that will fatigue the legs. For the last minute, increase resistance and do a sprint. The goal is to get to a higher speed or farther up the hill each time, which will overload the legs and promote leg strength.
Continue Learning about Cycling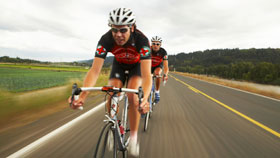 Cycling is one of the best forms of aerobic exercise and doesn't put a lot of stress on your joints. And studies have shown that riding a bike for as little as five minutes a day can help you control your weight. Learn more about ...
cycling from our experts.
More