Indoor cycling can be a good compliment to your outside riding. You can focus on specific parts of your training without worry about traffic, stopping, weather, and bike handling. You can easily work on one leg drills to improve your pedaling efficiency and tempo rides which can be difficult to do outside. However, it is important to know that the dimensions and the set up of the indoor bike have to be similar to your bike you ride outside or your benefits will be limited in extreme cases as with upright or recumbent bikes will not help at all with your outside riding.
Indoor cycling provides a lot of benefits that transfer to cycling outside. For beginners, it is a good way to build up leg strength and the cardiovascular system before taking long rides outside. In the controlled environment you can monitor both power output and heart rate to build a good base. Once you are riding outside, you can use the indoor rides to help monitor progress or just use it as an easy recovery day by removing additional stresses such as wind, heat, cold, or steep inclines. Mixing in other cardiovascular equipment such as ellipticals and treadmills can be helpful to prevent overuse injuries and to work other muscle groups. Adding circuit training and weight training to the mix will also help with muscular development and injury prevention.

Continue Learning about Cycling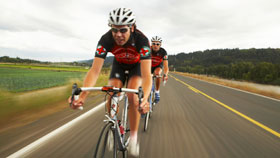 Cycling is one of the best forms of aerobic exercise and doesn't put a lot of stress on your joints. And studies have shown that riding a bike for as little as five minutes a day can help you control your weight. Learn more about ...
cycling from our experts.
More