Heart rate training is useful for any sport because it will provide feedback on the intensity of the training session. This gauge of intensity will help determine the demands that you put yourself through when training.
Continue Learning about Cycling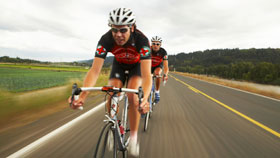 Cycling is one of the best forms of aerobic exercise and doesn't put a lot of stress on your joints. And studies have shown that riding a bike for as little as five minutes a day can help you control your weight. Learn more about ...
cycling from our experts.
More