While some riders take breaks every 20 miles for five minutes, others don't take breaks at all. Everyone responds differently to exercise. During workouts it is okay to take breaks as required between sets of intervals. When doing your endurance miles, go ahead and stop and stretch out as needed. During this time, drink some fluid and grab a small bite to eat if needed. As always, listen to your body. If you need a break then it's more than ok to stop! Your total workout time is the amount of time that you are actually working out. If you take three 5 minute breaks during your workout then just try to fit an additional 15 minutes to the end of your ride. The goal of long rides is to eventually ride the entire time without stopping. In due time you will make it there but in the meanwhile try progressing to shorter and fewer breaks.
Continue Learning about Cycling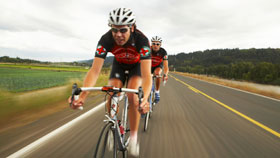 Cycling is one of the best forms of aerobic exercise and doesn't put a lot of stress on your joints. And studies have shown that riding a bike for as little as five minutes a day can help you control your weight. Learn more about ...
cycling from our experts.
More