The goal of your cycling program will determine whether training on a stationary bike is effective or not. If the goal is to race outdoors then most of your time should be spent outside. The main reason for using a stationary bike for a racer is if poor weather does not allow you to reach your goals for that training session. Another reason is to control the watts or workload during that session. If the goal is to work on leg strength for hill climbs and you want to control the watts, then having a stationary bike is effective. If your goal is simply general fitness, you can receive a lot of the same cardiovascular and leg strengthen benefits on a stationary bike as you would riding outside. The biggest difference is the additional core strength and balance that improves when having to control your bike outside.

Continue Learning about Cycling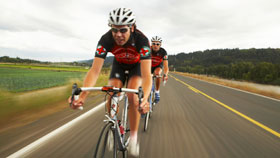 Cycling is one of the best forms of aerobic exercise and doesn't put a lot of stress on your joints. And studies have shown that riding a bike for as little as five minutes a day can help you control your weight. Learn more about ...
cycling from our experts.
More