Yes. Aside from the scenery you experience, mountain biking and road cycling require very different equipment. Mountain bikes are heavier and built to withstand more abuse considering you will be riding in a variety of terrains. Their tires are specially designed and manufactured to withstand more pressure from sharp objects. Also, many mountain bikes are made with shocks to absorb impact. In contrast, road bikes are lighter and are built to maximize the speed at which you are able to ride. These types of bicycles are made for riding on pavement, are not built with shock absorbers, and are not suitable for dirt roads.
Continue Learning about Cycling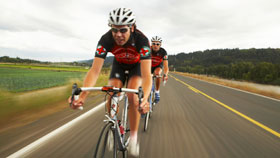 Cycling is one of the best forms of aerobic exercise and doesn't put a lot of stress on your joints. And studies have shown that riding a bike for as little as five minutes a day can help you control your weight. Learn more about ...
cycling from our experts.
More