Here are a few things to keep in mind when choosing the right size bicycle:
• For a road bike, keep your frame size 2.5 cm from crotch to top-tube. For an off-road bike, keep it 7 -- 15 cm.
• Seat height should allow approximately 30 degrees of knee bend at the lowest point. A low seat forces the knee to bend more and may cause knee pain.
• The forward tip of the saddle to the center of the handlebars should equal the distance from the tip of your elbow to your long finger. Although a longer crank length gives you a mechanical advantage, it also forces your hips and knees through a larger range of motion and increases your risk of injury.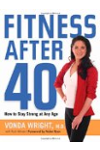 More About this Book
Fitness After 40: How to Stay Strong at Any Age
It's one of the undeniable facts of life. After we reach a certain age, our bodies change. No matter how fit we may have been at 20, we're very different people after 40. But growing older doesn't...
The best way to choose a bicycle that's the right size for you is to purchase a bike from a local bike shop. The trained professionals there will be able to select the proper size bike and adjust it accordingly depending on your desired type of bike and usage.
To make sure your bike fits your body correctly, position the seat so that when you pedal downward to the lowest point, your leg is almost straight. There should be a small bend in your knee of about 10 to 15 degrees.

To get a reliable fit, take your bike to a bicycle shop and have them assess how well the frame height, seat and handlebars suit you. A few adjustments can make riding more comfortable and protect you from fit-related troubles.
Continue Learning about Cycling