In the United States, only about 5% of cancer patients participate in clinical trials. In 2003, a study looked at public attitudes toward participation in cancer clinical trials. The authors concluded that the main problem with getting patients to participate in clinical trials was not convincing patients of the benefits, but rather it was because trials were not accessible to patients (or for some reason the patients did not qualify for the study).

Another important reason patients were not enrolling was that some doctors were reluctant to encourage patients to join the trial. In 2005, results of a survey were presented by the Coalition of Cancer Cooperative Groups and Northwestern University looking at the awareness and attitudes of cancer survivors toward clinical trials. This study reported that only 9% of patients with cancer were ever made aware of their ability to participate in a clinical trial that may offer them a new, more effective treatment. Importantly, awareness varied based on the type of cancer; for example, 26% of leukemia patients were made aware of trials versus only 5% of gynecologic cancer patients.

When cancer survivors were asked if they were satisfied with their clinical experience on a trial, they responded with overwhelmingly positive responses. Ninety-seven percent of patients felt they were fully informed about the risks and benefits of the trial, and 96% of patients felt they were treated with dignity and respect on the trial. Probably the most convincing statistic was that 91% of patients would recommend a trial to other potential volunteers.

The bottom line is that clinical trials are a good thing, and are just one of the many ways you can actively get involved in the fight against cancer and help make a difference in people's lives for years to come. Participate in trials when you can, and take pride in knowing you are helping to keep medicine and cancer research moving forward.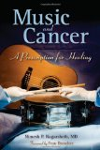 More About this Book
Music And Cancer: A Prescription For Healing
From diagnosis to end-of-life care to the meaning behind life with cancer, Music and Cancer: A Prescription for Healing is designed to improve the quality of life of people affected by cancer in a...
Continue Learning about Cutting Edge Research For Cancer