A computed tomography (CT) or computed axial tomography (CAT) scan test utilizes computers to enhance radiographs and give much more detail. It involves lying on a table and being moved through a ring while images are made, a process that often can be done in less than fifteen minutes. This test is especially helpful in viewing sinuses and determining if they are chronically affected.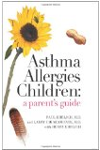 More About this Book
Asthma Allergies Children: A Parent's Guide
Asthma and allergies are at epidemic proportions. It doesn't have to be that way. Two experienced pediatric allergists tell everything a conscientious parent needs to know about these conditions,...
A CT scan of the sinuses is a noninvasive and painless specialized imaging procedure that involves passing a thin pencil beam of x-rays through the patient's face and head and collecting this information through a ring of detectors that surround the patient. Computers will generate high resolution images of the sinus passages that surround the patient's nose. It is the most accurate way to evaluate the sinus passages and the bones that make up the sinuses.
Continue Learning about CT Scan