A wristband with your name, date of birth, date of admission, and hospital identification number will be applied in the emergency room (ER), if not already done at triage. Some hospitals apply a second "Allergy Alert" band if you have any allergies. You may be asked to verify the information on the ID band by initialing it before it is put on your wrist. Ask to have the wristbands placed on your dominant arm because if you need an intravenous line (IV), you'll want the IV in your non-dominant arm.
Remember, an identification bracelet is applied with your safety in mind. Don't remove it. And don't let anyone else wear it. Once you leave the hospital, the bracelet should be cut up and destroyed like you would an old credit card.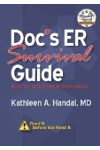 More About this Book
Doc's ER Survival Guide (DocHandal's Guides)
Few people get through life without at least one trip to the emergency room (ER), either as a patient or support person for a family member or friend. Doc's ER Survival Guide is designed to help...
Continue Learning about Critical Care