They are called vital signs for a good reason: Both in the emergency room (ER) and elsewhere, they offer an overall picture of a person's health. When healthcare professionals look at vital signs and examine a person, they can learn whether or not someone is sick, and if they are, determine just how sick he or she is.
An emergency room (ER) nurse is responsible for monitoring your vital signs. This includes heart rate, blood pressure, respiratory rate, temperature and pain level. Initially, the nurse is looking to see if the numbers are too high or too low and whether something has to be done right away to correct the problem. For instance:
If your heart rate is 150 (which is high for an adult), we're going to have to quickly determine why and treat the problem with medication.
If your blood pressure is too low, say 60/40, we're going to have to establish the cause and either give you medication or IV fluids to raise your blood pressure.
If your breathing is shallow, we'll try to uncover the reason and take steps to correct the problem.
If your temperature is elevated, we'll look for the cause while attempting to bring it back to normal.
In certain cases, oxygenation is also monitored, as part of your respiratory assessment. If your oxygen saturation is low, let's say 89%, or your condition is serious, oxygen will be given through your nose or a mask.
While there are guidelines for what is considered "normal" vital signs, each of us is unique. Our age, weight and medical conditions factor into what is best for us and what is out of bounds! Therefore, the next time you see your medical provider, ask what your "normal" is and include this information on your health history sheet.
Pain is considered the fifth vital sign. There are different types of pain scales but the most commonly used one has a numerical rating scale. You'll be asked regularly to report your pain level number. This is done for your comfort and safety and to decide the best care so please cooperate. The nurse will be documenting the times and your responses. This helps to determine if your condition is changing and how much pain medication you may need and how often. It also helps to identify when a type of pain medication isn't working and when another one should be ordered.
Children, elderly or anyone who may be confused may be asked to express their pain level using visual aids. This type of scale provides a visual description of pain for those who are unable to verbally communicate their discomfort. By acknowledging or pointing to the image that best matches how they feel, the patient provides the nurse with a good sense of how much pain they're experiencing.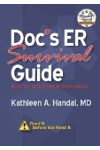 More About this Book
Doc's ER Survival Guide (DocHandal's Guides)
Few people get through life without at least one trip to the emergency room (ER), either as a patient or support person for a family member or friend. Doc's ER Survival Guide is designed to help...
Continue Learning about Critical Care