Emergency departments must treat everyone, despite their ability to pay, so that means the place can be crowded. You'll see people with bad colds and flu as well as broken bones or worse. Expect a long wait. And don't be fooled if the waiting room looks nearly empty; it could be that every spot in the treatment area is full or that much of the staff is in one room trying to save a person's life.
Be your child's advocate, and feel free to express any concerns. If your child is in a lot of pain, say so. If you feel the care your child is getting isn't up to snuff, tell the doctor or nurse in a respectful manner. But talk yourself down if you get impatient or irritated. It just won't help. It may even be a good idea to show a little love to the staff and thank them as they go about their work. Getting hostile or demanding isn't going to win you any brownie points. It shouldn't affect your child's care if you really get belligerent or go off on some poor, tired staffer—but it could.

Just remember, the nurses and doctors are likely doing the best they can, usually under very trying circumstances.

From The Smart Parent's Guide: Getting Your Kids Through Checkups, Illnesses, and Accidents by Jennifer Trachtenberg.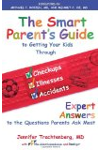 Continue Learning about Critical Care