People tend to minimize the amount of alcohol they consume. If you drink six beers a day, say so. Don't say you drink a beer or two once in a while. Alcohol affects your body in many ways. If you drink on a regular basis and are rushed to the operating room, you could die if the anesthetist does not know about the extent of your drinking. If you are admitted to the hospital, you may experience withdrawal symptoms that will complicate your condition. Tell us so medication can be ordered to help.

Also be honest about your drug use, both street and prescription. Narcotic withdrawal, whether from street heroin or Percocet, can tremendously complicate any illness. Know that certain therapeutic medications don't sit well with street drugs and opioids and may even result in adverse effects -- so tell the truth!

If you smoke, tell the doctor. Most likely, you're not going to be able to go outside for a smoke while you're being seen. The EM doctor can order a nicotine patch for you that should help with your cravings. Smoking in the hospital is a serious offense. Oxygen is in use and can ignite when exposed to open flames from matches or cigarettes. In some hospitals, violators of the no smoking rule will be prosecuted.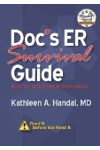 More About this Book
Doc's ER Survival Guide (DocHandal's Guides)
Few people get through life without at least one trip to the emergency room (ER), either as a patient or support person for a family member or friend. Doc's ER Survival Guide is designed to help...
Continue Learning about Critical Care