Emergency departments in hospitals are designed to handle life-threatening illnesses and injuries such as heart attack, stroke, trauma, respiratory distress, status epilepticus (uncontrolled seizures), loss of consciousness, burns or any illness or condition that poses an IMMEDIATE risk to life.
Urgent care in an ambulatory setting is designed for non-life-threatening illness and injury such as acute sinusitis, sprains/strains, or any illness or condition that DOES NOT pose an immediate risk to life but requires attention before you can visit your Primary Care Provider during the next business day.
It is important to note that having a Primary Care Provider and scheduling regular, preventative visits is the most effective method to decrease visits to urgent care and emergency departments. These services are very expensive and are not designed to address the holistic needs of individuals.
The best recommendation is to use prevention strategies that improve health and wellness. One strategy is to commit to regular check-ups with your Primary Care Provider.
You should go to urgent care rather than the emergency room (ER) for simple things, such as:
cough
congestion
colds
sore throats
bumps
bruises
For more worrisome things like chest pain, abdominal pain, altered mental status and significant injuries, you need to go to the ER.
Urgent care centers give prompt medical treatment for minor medical conditions when your family physician is not available. Urgent care physicians have the capability of diagnosing and treating medical illnesses like strep throat and pneumonia, but they also can handle sprains, strains, lacerations and even the initial management of many fractures.
Emergency departments were designed to diagnose and treat serious health conditions. That is, those problems that require hospital admission, warrant immediate surgery, or need a specific procedure or medication in order to prevent the loss of life or limb. Urgent care clinics are able to manage problems that are neither life nor limb threatening, but still demand prompt attention. For treatment for a suspected heart attack or stroke, call 911 and head to the ER. On the other hand, if your child just needs wound care or evaluation for an ankle injury, your local urgent care center might be just what you need.
You should go to urgent care versus the emergency room (ER) for non-life-threatening situations that still require immediate attention and you can't get in to see your primary care physician (PCP). Going to an urgent care facility can save you time and money. For anything that is considered a life-threatening situation (like chest pain or sudden and severe pain) it's best to go to the emergency room.
Even if you require emergency or urgent care for your health situation, it's always best to have a relationship with a PCP who knows your history and understands what is happening with your health over time.
Trinity Health is a Catholic health care organization that acts in accordance with the Catholic tradition and does not condone or support all practices covered in this site. In case of emergency call 911. This site is educational and not a substitute for professional medical advice, always seek the advice of a qualified health care provider.
Consider going to an urgent care center for minor illnesses and injuries, such as flu, fever, earaches, nausea, rashes, animal and insect bites, minor bone fractures or cuts requiring stitches. Remember, however, that these facilities may be convenient but are no substitute for hospital emergency care in a medical emergency, such as a heart attack, stroke or trauma. They don't have the same equipment or trained staff as an emergency room (ER). Many centers conduct physical exams, vision and hearing screenings and basic lab tests and x-rays. Check with your insurance company to learn about the urgent care centers covered under your policy.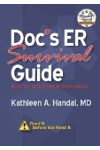 More About this Book
Doc's ER Survival Guide (DocHandal's Guides)
Few people get through life without at least one trip to the emergency room (ER), either as a patient or support person for a family member or friend. Doc's ER Survival Guide is designed to help...
You should go to urgent care versus the emergency room (ER) if you have a condition that is not life threatening. Emergency rooms are designed to treat people with critical conditions and life-threatening injuries. They are open 24 hours a day, 365 days a year. Urgent care clinics are designed for people whose illnesses or injuries don't present as life-threatening, but who feel they cannot wait until their primary care provider can treat them. Urgent care clinics are typically open on weekends and with extended weeknight hours. They generally see people on a walk in basis.
Urgent care centers are used for non-life threatening illness and injury care such as:
a minor cut with controlled bleeding
twisted ankle and need an x-ray to rule out fracture
an ear ache
sore throat without fever
flu symptoms with low grade fever (under 101 degrees Fahrenheit) for an adult
a rash
More serious illness and injury requiring an emergency room visit would include:
chest pain
broken bone protruding out of the skin
adult with fever 101 degrees Fahrenheit or higher
abdominal pain
uncontrolled bleeding
allergic reaction
animal bite
Continue Learning about Critical Care