If you have to be transferred from your local emergency room (ER) to another facility, the emergency physician along with other hospital staff will help to arrange the transfer. Depending on how severe your illness is and how far away the accepting medical facility is, the transfer will be done via ambulance, airplane or helicopter. The emergency physician will send a summary of your medical care including notes, laboratory studies and imaging studies to the receiving facility.
Whether due to need for specialized care, insurance reasons or personal choice, arrangements for a transfer from the emergency room (ER) to another facility can take time. You may be admitted to the hospital until the arrangements are complete. In addition to arranging for your admission to the other facility, the hospital has to coordinate your transportation and seek authorization.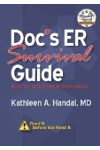 More About this Book
Doc's ER Survival Guide (DocHandal's Guides)
Few people get through life without at least one trip to the emergency room (ER), either as a patient or support person for a family member or friend. Doc's ER Survival Guide is designed to help...
Continue Learning about Critical Care