I agree with the answers of my medical and nursing colleagues. You would want to tell the nurse performing your initial interview, known as the triage nurse, about the main reason you have come to the emergency department. Think of this "main reason" as the issue that troubles you the most. The triage nurse may then ask you more specific questions about your symptoms. Please mention if you are pregnant. Although you may not be in the emergency room because of a pregnancy related issue, this is an important consideration in your care.
Tell the triage nurse about your medical history including diabetes, high blood pressure, arthritis, previous heart attack or stroke, kidney disease with dialysis, mental or emotional illness [e.g. bipolar, depression, anxiety, schizophrenia, etc.], and any other major illness. You may include previous gunshot or stab wounds if that is in your history. Also, talk about any surgeries you've had in the past such a removal of your gallbladder, kidney, or limbs. Inform the nurse about surgery of the heart, brain, back, removal of tonsils, or a hysterectomy [removal of a woman's uterus].
Tell the nurse about allergies to foods, medications, IV contrast dye used in certain tests, tape, or latex. Also talk about the medications you take regularly. Please remember to include such medications as blood thinners [e.g. Coumadin], birth control pills, multivitamins and herbal supplements, and medication for erectile dysfunction such as Viagra and Cialis. It is important to inform the nurse if you take drugs for recreation such as cocaine, marijuana, meth, bath salts, etc. This information helps the health professionals plan your care appropriately.
There are other serious events that may cause you to go to the emergency department. If you are giving up your baby, you may take the baby to the E.R. for safe haven and no questions will be asked of you as to why you are giving up your baby. But, you may want to volunteer information as to your knowledge of the baby's health status or any medications the baby requires.
If you have been assaulted, raped or experienced domestic violence, just tell the triage nurse briefly what happened. There will be a physician, additional nurse, social worker and, possibly, a specialized nurse examiner and law enforcement officer involved in your care. They will ask you more questions and allow you time to give more details regarding the circumstances leading to your injuries.
Things you should tell the nurse when you get to the ER include: Why you have come to the ER, try to give the best description of all your symptoms. This will help the nurse and doctor take care of you. It is important to tell the nurse any medical conditions you might have for example (diabetes, high blood pressure). It is important to tell the nurse anything that you are allergic to. If possible keep a list of your current medications with you or bring the bottles of medication with you to the ER. If you don't have a list of your current medications or the bottles try to give the pharmacy information where you get all your medications. The nurse/doctor could call to obtain a list from the pharmacy.
What brings you to the ER.
A description of what is happening.
When it started & whether the symptoms you are experiencing have changed
What may have brought on the problem if any
What you did so far to manage the medical problem
What your medical history is
What medications you take
What allergies you have
When you get to the ER, you should tell the nurse the specific reason that you are there - and be honest! This is called a 'chief complaint'. Let the nurse know what symptoms you have, when they began, and what may have affected them.
The first nurse you will see is called a triage nurse. The triage nurse will take your medical history (this is why it is vital to have an updated medical history and medication form with you).He or she will also take your vital signs (i.e. temperature, pulse, blood pressure, respiratory rate) and decide your place in the line based on your illness and its severity.
Be as specific as possible when providing information. Let the nurse know if you:
- Have a history diabetes, heart diseaseAre being treated for a mental illness.

- Have had surgery recently?

- Are experiencing nausea and vomiting and you were recently out of the country.

- Take illicit drugs, drink, or smoke or Have a history or depression or thoughts of suicide.

- If you have any allergies, including allergies to medications, latex, contrast dye, or food.
Focus on your main troubling symptoms when you're talking to the triage nurse, and tell her/him about all of your medical conditions. Saying, "I have severe dizziness" is serious; saying, "I have severe dizziness and I'm a diabetic" is critical.

Importantly, don't skip any symptoms you're having right now. Mention everything, even the minor ones that you don't think are symptoms, such as sweating and anxiety.

However, this isn't the time to tell the triage nurse about every non-serious ailment or complaint you've had in the last three years. You want to keep things to the point, and talk about the present. In other words, tell the nurse that you have high blood pressure and you've been having chest pain for one hour. Don't tell the nurse that you've had knee pain and a bad back on and off for the last 12 years, and when you had that flu back in '91 you felt almost as terrible as you do now…

Going on like this could obfuscate your real problems and that could keep you in the waiting room for the next 12 years. So don't overburden the triage nurse with info that will keep you in plastic chair next to the vending machine until well past dawn.

(Speaking of the plastic chair, that's the one you want. Avoid waiting-room chairs that have cloth upholstery, because they're harder to clean and…I trust you know where I'm going with this.)

With any luck, you'll be on your way home before the next shift change.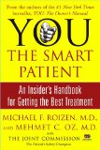 Continue Learning about Critical Care