You will be receiving information on your rights as a patient from the hospital staff. The Patient's Bill of Rights is usually posted in the emergency room (ER). In general, as a patient you have the right to:
be treated with respect
information and choice
privacy
Remember, you have a right to have a test, medicine or procedure explained to you before you receive it. You are free to accept or refuse treatments if you are unclear or not satisfied as to why it was ordered. The ordering staff member, commonly the emergency medicine doctor, will be told of your concerns and should approach you to discuss them. The policy requires that you have a detailed explanation of what refusal of treatment means and to be told what negative effects this may have on your health. You must accept responsibility for refusal to follow the treatment plan. You also have the right to refuse to participate in medical research.
Take responsibility for your health care. Participate in all decisions about your treatment. It is your body!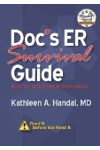 More About this Book
Doc's ER Survival Guide (DocHandal's Guides)
Few people get through life without at least one trip to the emergency room (ER), either as a patient or support person for a family member or friend. Doc's ER Survival Guide is designed to help...
Continue Learning about Critical Care