A quick way to get things in or out of the stomach is to insert a nasogastric (NG) tube. It is used to relieve pressure caused by fluid behind an obstruction or to remove blood or stomach acid. A soft, clear tube is placed through one nostril and travels down your throat and into your stomach. Emergency room staff will estimate the distance from your nostril to your stomach first.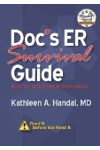 More About this Book
Doc's ER Survival Guide (DocHandal's Guides)
Few people get through life without at least one trip to the emergency room (ER), either as a patient or support person for a family member or friend. Doc's ER Survival Guide is designed to help...
Continue Learning about Critical Care