An advance directive is also called a living will and it pertains to health care only (not financial matters such as real estate, checking accounts, stocks, etc.) In the document, an adult formally announces, in writing, his/her values about health care, life, quality of life, suffering, and dying. An attorney does not need to prepare this document and in many US states, it does not need to be notarized, only witnessed.
The document has a separate section in which the individual can appoint one or more people (primary, alternates) to function as a surrogate decision-maker when the individual becomes too sick to do so. It is at this time when the medical team will refer to the advance directive and the surrogate for guidance about treatment planning.
If you would like a free living will template you can download a pdf at my website, www.TransplantEthics.com. Be sure to give a copy of the completed document to your personal physician, and also to your appointed surrogates. A copy should be given to the hospital whenever you are admitted for care.
You can revise your living will at any time. Just throw away the old one and the new version becomes the "active" document. Make sure your surrogates and doctors have a copy of the current version.
The term "advance directive" refers to a set of documents in which people can document their wishes and guide their care if they can no longer speak for themselves. One document, a "living will" registers what a person would want in the way of life-sustaining treatment (ventilators, artificial feeding, etc.) if they were permanently unconscious or terminally ill. It is also possible to extend those instructions and make them apply to a condition of severe dementia.
Another document names a person to serve as a surrogate decision-maker. States call this person "proxy" or "healthcare agent" or "attorney-in-fact for healthcare." The named person has the same authority you would have to direct care under any circumstances, if you were to lose the ability to understand alternatives, make decisions and speak for yourself.
People need both kinds of advance directive. Without a specific person named by you, the decision may fall to a person altogether inappropriate, who may not know or care about your values or what you would want. And recent research shows the person you name is most effective when they have concrete, written evidence of your wishes. The living will portion guides them and supports them in the decisions they make on your behalf.
Compassion and choices offers state-specific advance directives free of charge, along with several optional addenda to extend their reach to advanced dementia, add more particularity about specific medical interventions, and give instructions for transfer if religious directives or other moral teaching prevent a hospital or other facility from honoring your wishes.

An advance directive is a written document that states a person's healthcare choices and names someone to make those choices should the person become unable to make his or her own decisions about medical care. The most common types of advance directives are a living will and a durable power of attorney for health care.
An advanced directive is a statement of the types of care that you would or would not wish to have under different situations and is signed in front of a witness. This could include avoiding mechanical ventilation, dialysis, tube or intravenous feedings, or major surgery if you were not able to make decisions and had a major irreversible fatal illness or were in an irreversible coma. These are most often prepared as part of the process during an elective admission to a hospital and become part of the medical record. Different states have different laws governing the limitations of an advanced directive. Most require a notarized and witnessed signature with the witnesses stating that you understand the decisions, are of sound mind, and are competent to make decisions.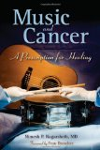 More About this Book
Music And Cancer: A Prescription For Healing
From diagnosis to end-of-life care to the meaning behind life with cancer, Music and Cancer: A Prescription for Healing is designed to improve the quality of life of people affected by cancer in a...
Your relative or friend's desires should be spelled out in an advance directive after discussions with the family. It's advance care planning, not just advance directives, that makes a difference.

The advance directive can include a living will, a healthcare proxy and a do-not-resuscitate (DNR) order. A living will expresses the patient's wishes regarding end-of-life medical treatment; unlike a healthcare proxy, however, it may not be legally enforceable. A DNR order instructs medical personnel not to use resuscitative measures, such as cardiopulmonary resuscitation. Federal law requires facilities accepting Medicare or Medicaid to provide information about advance directives.

Every state recognizes advance directives, but laws vary when it comes to how they are carried out. It helps to talk to an attorney about your state's specific requirements, although you can complete the forms without consulting one.
In the case of a medical emergency, family members and physicians should be aware of a patient's personal wishes.

A legal document called an advance directive is a document that makes those wishes known. In addition, you should express your wishes concerning organ donation to your family and doctor.

Advance directives include:
living wills
power of attorney
cardiopulmonary resuscitation (CPR) instructions
Advance directives include a person's signed description of their wishes in the event of a catastrophic medical event. They have two parts.

The individual healthcare instruction defines what should be done medically when a person is too ill or injured to speak for themselves. It may indicate, for example, whether artificial life support measures should be used or what types of pain relief are preferred.

The durable power of attorney for healthcare enables people to designate an agent, such as an adult relative or friend, to make medical decisions when they are unable to. If the patient hasn't conveyed specific wishes through the individual healthcare instruction, their agents must determine what they would have wanted. Caregivers must follow the agent's decisions unless a requested treatment would be ineffective or harmful.
An advanced directive is a legal document that specifically spells out how a person wants to be cared for as the end draws near. This is a legal document and needs to be in accord with one's home state laws.

It must be completed and notarized and/or signed by witnesses. Until electronic signatures are more common, the signed form must be in a defined location which is known to the healthcare proxy, the attorney and the doctor.

An advanced directive is not enough. It must be known to one's caregivers. A person will need someone to see that his advanced directive is adhered to if he is not in a position to do so. This person is designated by a document called a durable power of attorney for health matters. A person must choose his proxy/surrogate wisely.

The document designating the proxy/surrogate must be notarized and signed. Until electronic signatures are more common, the signed form must be in a defined location which is known to the healthcare proxy, the attorney and the doctor.
An advance directive is a document that indicates what your healthcare choices would be if you are unable to speak for yourself. These decisions can be written down in an advance directive so that others know what they are. Advance directives come in two main forms:
A "healthcare power of attorney" (or "proxy" or "agent" or "surrogate") indicates a person you select to be your voice for your healthcare decisions if you cannot speak for yourself.
A "living will" lists what kinds of medical treatments you would or would not want for end-of-life care.
An advance directive form guides your health care provider in your end-of-life wishes. In this video, family medicine specialist David Grube, MD, explains why it's important to complete an advance directive, and include family in the discussion.
Continue Learning about Critical Care