Your emergency room (ER) experience will depend on your level of acuity, which refers to the level of care you need.
People with high acuity are those experiencing chest pain, stroke symptoms or major traumas. Lower acuity might be moderate abdominal or pack pain, as well as undeniable weakness in otherwise healthy adults.
Typically, when you first enter the ER, a triage nurse will take your information and symptoms to determine your acuity. People with high acuity are frequently taken straight back to the emergency department, while those with lesser degrees of acuity may have slightly longer waits. He or she will also ask you about any medications you are taking, so be sure to keep a current medication list with you.
Small emergencies, such as sprains, sore throats, ear infections or rashes, are usually met with longer wait times.
When you arrive at the emergency room (ER) by ambulance, emergency medical services (EMS) will have already notified the ER of your status. Initial treatment will be based on this report. If your condition is critical, you will be treated right away. Don't expect a long meet-and-greet session. The medical staff needs to figure out your treatment plan and doesn't have time for chatting. Friends and family may be asked to wait outside and to assist with registration. It's important to allow medical personnel to do their work. If your condition is stable, you will be taken to an assigned area and triaged along with walk-ins. If the patient is critical and it is important for you to be at the bedside, let the staff know of your wishes. People do die in the ER. You should know how to reach clergy when death is expected.
When you are able to walk into an ER, go to the main desk and say why you are there. The receptionist will ask you to fill out a short form with the time, your name and a brief description of the medical emergency. If you are stable, you will be directed to the triage area if there is not another patient already there. A triage nurse will speak with you to determine whether or not you need to be seen right away. This mini exam may include your vital signs—temperature, blood pressure, heart rate, respiratory rate and oxygenation level. If you are in pain, you will be asked to describe the pain in your own words and to use a pain scale to rate the intensity of your pain.
If you are coughing, you'll be given a mask to wear until you are examined. You will also be asked if you are being controlled or hurt by someone. Hospitals are required by law to ask these questions to help determine if someone is in an abusive relationship. If you are in an abusive relationship, this is a good opportunity to seek assistance.

If there is a long wait in triage and you're feeling okay, you will be registered while waiting. This is when you need to have your insurance card and ID information ready, as well as information on advance directives. Be sure to use the exact name and address that is on file with your insurance company. The registrar at the desk doesn't need to know your health history. This person is starting the file (chart) on you that will follow you throughout your visit. Your name and date of birth will be used to identify you, so make sure they're entered correctly.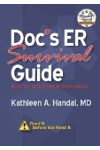 More About this Book
Doc's ER Survival Guide (DocHandal's Guides)
Few people get through life without at least one trip to the emergency room (ER), either as a patient or support person for a family member or friend. Doc's ER Survival Guide is designed to help...
As soon as you arrive at the emergency room (ER), you'll be taken to a room as soon as it's available. There, you'll be evaluated by a nurse, followed by a doctor, then a nurse practitioner or a physician's assistant. You'll also have your vital signs taken. Multiple people will probably ask you the same questions more than once, which can be frustrating, but it's really important that everybody get information directly from you to prevent errors. After that, your doctor or nurse practitioner will order the appropriate tests, medications and treatments, whether that's blood work, x-rays, a computed tomography (CT) scan or intravenous (IV) medications.
Continue Learning about Critical Care