If you're going home, the emergency medicine (EM) doctor has to write your discharge order and follow-up instructions. If you do not have a personal physician, one will be assigned to you. Prescriptions for medications related to your complaint will be provided. If it is the middle of the night, a few doses of your meds may be given to tide you over until you can get your prescription filled. It's not the ER's responsibility to reorder your cholesterol medication or birth control pills so please don't ask. The nurse will review the paperwork with you and complete the discharge documents.
Remember, both the nurse and the ER doctor are taking care of other patients and prioritizing who needs them first. You've been cared for so it may take a while for the paperwork to be completed.
After the discharge instructions and follow-up recommendations are carefully explained, you will be asked to sign them, verifying that you received the instructions and that you understand them. A copy of the document you sign goes into your medical record so be sure you are clear on what you must do. Your signature means that you understand. You'll receive a copy of your discharge instructions to take with you. If, after you leave, it is determined that test result information requires further action, you will be notified.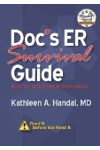 More About this Book
Doc's ER Survival Guide (DocHandal's Guides)
Few people get through life without at least one trip to the emergency room (ER), either as a patient or support person for a family member or friend. Doc's ER Survival Guide is designed to help...
When it's time to be discharged from the emergency room (ER), your doctor or nurse practitioner will come back to your room and discuss the results of any labs or imaging he or she ordered. They may also discuss a diagnosis with you. However, many times it's difficult to give a final diagnosis in the ER, and this can be frustrating to patients. Remember that the job of ER healthcare professionals is to rule out life-threatening emergencies first and then send people to the right place for further work that might be needed.
If you do receive a diagnosis, you will also likely receive the following:
Your prescriptions
Instructions for any follow-up care you may need
Sometimes, if you're at a small, local hospital, you might have to be transferred to a larger hospital for help from a specialty that's not available in your location.
Continue Learning about Critical Care