If you feel your child's condition is worsening while waiting in the ER, please notify someone. An illness can change over a short period of time.
If your child's symptoms have worsened while you've been waiting to be seen, tell the triage nurse, "My child's getting worse." Then describe what's changed. You won't be able to snow the triage nurse if it isn't true, but if it is it will get his or her attention. It means what was written down on the form three hours ago may not be valid now.
From The Smart Parent's Guide: Getting Your Kids Through Checkups, Illnesses, and Accidents by Jennifer Trachtenberg.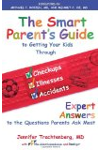 If your child's condition worsens while you're waiting in the emergency room, it is important to let a healthcare provider know.
Continue Learning about Critical Care