The busiest times of day in the ER are between the hours of three and ten o'clock at night, says Justin Williams, MD, of Methodist Stone Oak Hospital. Watch this video to learn more.
The busiest time in the emergency room tends to be in the evening hours; so going in the morning hours is ideal if you have serious symptoms. In this video, emergency medicine specialist Phillip Blanc, MD, suggests the best times to go to the ER.
While emergency rooms (ERs) are unpredictable, a general guide is to expect the busiest time to be around 6 p.m. As you might guess, 3 a.m. to 9 a.m. is typically quieter, but remember, in the ER you cannot predict waiting time. Mondays are usually the busiest day of the week.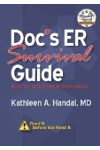 More About this Book
Doc's ER Survival Guide (DocHandal's Guides)
Few people get through life without at least one trip to the emergency room (ER), either as a patient or support person for a family member or friend. Doc's ER Survival Guide is designed to help...
Continue Learning about Critical Care

Critical care refers to the treatment given to people who are having life-threatening medical problems requiring the expertise of a team of highly trained medical professionals. Learn more about critical care from our experts.