In order to safely drive yourself to the emergency room (ER), your vision, mental status, reflexes and physical strength should be at your normal levels. It is easy to be distracted while driving, and there are dangers associated with this; your illness can similarly be a distraction.
If a person is experiencing symptoms of lightheadedness and breathing problems, it's suggested you call 911 for immediate care.
Illness or injury can blur your thinking. Don't drive yourself to the emergency room (ER). Depending on your situation, call a cab or ask a family member, coworker or neighbor to drive you. If you are acutely ill or injured, are having trouble breathing, chest pain or experiencing extreme weakness, call 911 or your local emergency medical services number. Lifesaving treatment can begin before arriving in the ER.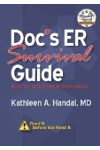 More About this Book
Doc's ER Survival Guide (DocHandal's Guides)
Few people get through life without at least one trip to the emergency room (ER), either as a patient or support person for a family member or friend. Doc's ER Survival Guide is designed to help...
Knowing when it is safe to drive yourself to the emergency room is very important to your safety and to those around you. There are definitely some health symptoms and injuries that make driving unsafe. If you are experiencing weakness, dizziness or severe pain, especially chest pain, you should call 911. The ambulance team will take you to the hospital safely and give you treatment before you arrive at the emergency room.
It's also unsafe to drive to the emergency room if you have:
a bad cut that requires you to hold pressure on it
an injury that changes your driving position
You should always ask yourself, "If I drive, can this possibly affect my safety or the safety of others?" If there is any doubt, the best thing to do is to be safe. Have someone else drive you to the ER or call 911.
In a medical emergency it is vital to get treatment as soon as possible, but it can be hard to decide whether to drive yourself to the emergency room (ER) or call an ambulance. The following are some basic guidelines:
When in doubt, do not drive yourself; call 911.
If you or your loved one is too sick, too hurt or too distraught to drive safely, call 911. An ambulance and trained personnel is always the safest way to get to the ER.
If you have a true medical emergency, call 911.
If you have symptoms of a medical emergency, call 911. Symptoms that suggest a medical emergency include shortness of breath, chest pain, dizziness, weakness, fainting, double vision, difficulty speaking, confusion, sudden or severe pain, bleeding that doesn't stop, coughing blood, suicidal feelings or severe allergic reaction.
If you're having trouble deciding, ask yourself these questions: Can whatever is happening get worse and become life threatening on the way to the hospital? Could I get delayed in traffic? If I try to move or move my love one, will it lead to more harm? If the answer to any of these questions is yes, call 911.
Continue Learning about Critical Care