Oxygen is administered through nasal prongs or a face mask. It will be adjusted according to your oxygenation level. Your oxygenation level is measured by attaching a monitoring device to your finger. For infants, the device is attached to the baby's toes. The amount of oxygen you receive is guided by the result on the monitor.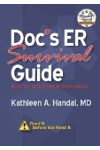 More About this Book
Doc's ER Survival Guide (DocHandal's Guides)
Few people get through life without at least one trip to the emergency room (ER), either as a patient or support person for a family member or friend. Doc's ER Survival Guide is designed to help...
Continue Learning about Critical Care