Obviously, if you fear your child's condition is very serious or could become life threatening, call 911 and ask for an ambulance. Your child will receive potentially lifesaving treatment from the Emergency Medical Technicians (EMTs) upon their arrival, and if your child's condition is truly life threatening, he will also get faster treatment at the Emergency Department (ED). In general, you may be able to drive to the ED if your child does not have a head, neck, or back injury, is awake and responding, is breathing without difficulty—and if you have another adult with you so one can comfort your child while the other drives. And, it should go without saying, you are sure you can drive (near) the speed limit, keep your wits about you, and not pass out behind the wheel. You don't need two emergencies. Always talk to your pediatrician or another doctor before deciding to drive your child to the ED yourself. Sure, there may be rare circumstances in which you can't get an ambulance or can't reach your doctors (or perhaps anyone) by phone, in which case the closest functioning auto will have to suffice. But otherwise, get your pediatrician's opinion first.
One advantage of using your own car: You can drive to the hospital of your choice, meaning one you know is child friendly. When you call an ambulance, make sure you ask ahead of time if they'll take you to the hospital of your choice. If you don't request a specific hospital, they will typically go to the closest hospital—and the most convenient hospital may not be the best one for kids.
From The Smart Parent's Guide: Getting Your Kids Through Checkups, Illnesses, and Accidents by Jennifer Trachtenberg.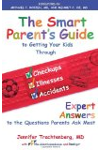 Continue Learning about Critical Care