If you require a breathing treatment to help you breathe better, the medication will be given through a jet nebulizer and administered by a respiratory technician or nurse who will stay by your side throughout the treatment. As you breathe, the medication will be forced into your lungs through a connection to a compressed air or oxygen source. If, during treatment, you experience a sensation out of the ordinary, speak up.

Before and after a breathing treatment your peak expiratory flow rate (PEFR) will be measured with a meter. It is best to conduct this measurement while standing, if your condition permits. You'll be asked exhale forcefully and rapidly with lips sealed around the meter's mouthpiece. This allows your emergency medicine (EM) doctor to determine if there has been measurable improvement in your breathing. Age and height are factors important in determining normal PEFR.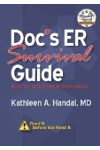 More About this Book
Doc's ER Survival Guide (DocHandal's Guides)
Few people get through life without at least one trip to the emergency room (ER), either as a patient or support person for a family member or friend. Doc's ER Survival Guide is designed to help...
Continue Learning about Critical Care

Critical care refers to the treatment given to people who are having life-threatening medical problems requiring the expertise of a team of highly trained medical professionals. Learn more about critical care from our experts.