In your living will, you can tell hospital staffers ahead of time—if things should take a particularly unhappy course and you can't speak up for yourself—which measures you do or do not want to receive, such as:

Artificial breathing. No, not via the personal services of one of the more attractive hospital staff members, we're afraid. You're placed on a machine called a ventilator, which pumps air into your lungs.

Artificial feeding. If you're unable to eat, you can be given nutrients through an IV or a tube that's inserted into your stomach. Some of our busy friends have asked if they could have this procedure done just as a matter of convenience, but we tell them they work too hard as it is.

Cardiopulmonary resuscitation (CPR). The organized theatrics you've seen in countless TV shows and movies, when a hospital team tries to revive you after your heart stops beating or you stop breathing (unless you request a do-not-resuscitate order, that is). Unlike on television, however, there is not a 99.9% chance that you will be revived successfully and to full consciousness within 5 seconds by a tanned actor, but we'll try our best.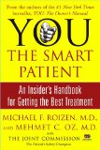 Continue Learning about Critical Care