Every ambulance company is different, but a family is usually able to ride in the back with a patient.
Typically, only the parents of young children who are ill or injured are allowed to ride in the ambulance. Otherwise, you'll have to drive to the hospital in your own car. Do not attempt to follow the ambulance. You will be violating traffic rules if you drive above the speed limit or run traffic lights. Drive at a safe speed to the hospital and park in the lot assigned for emergency room visitors.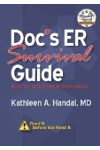 More About this Book
Doc's ER Survival Guide (DocHandal's Guides)
Few people get through life without at least one trip to the emergency room (ER), either as a patient or support person for a family member or friend. Doc's ER Survival Guide is designed to help...
Having a family member ride in an ambulance with you can be very comforting. However this depends on many things: What is the policy of the ambulance company? How ill or emergent is the situation? (very few ambulances will allow a family member to ride in the ambulance if the sirens and lights are on) Is the ambulance crew comfortable with having a family member in the ambulance? In summary, a family member may be able to ride with you, but it depends on the circumstances.
Continue Learning about Critical Care