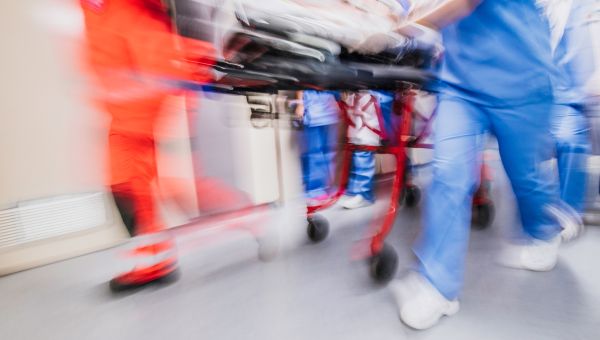 If you have an emergency, you assume that your 911 services and ER will be ready to take care of you, right?
But what if they aren't? Unfortunately, that's what we're seeing more and more. The American College of Emergency Physicians (ACEP) released their "2014 Emergency Medicine Report Card" and the U.S. as a whole got a grade that you wouldn't bring home to Mom -- a D+. One important distinction -- this was NOT a grade of ERs and ER doctors, but instead an evaluation of how well the country supports emergency care.
When you need to go to the ER, having a good ER doctor is crucial. But just as crucial is the state and federal "infrastructure" needed to maintain emergency rooms for true emergencies. As an ER doctor, I can and do treat the elderly lady sick with pneumonia because she was unable to get a vaccine, or the man whose leg infection became severe because he was unable to see an outpatient doctor. I also see the pedestrian struck by a vehicle at an unsafe intersection –- an accident that could have been prevented if the intersection had been repaired. But the reality is, ER doctors and providers only have so much capacity to make up for bad systems and are now working in one of the hardest environments ever for providing ER care. According to this report, the systems have only gotten worse since 2009, when it was last released.
Which states rated the best and the worst? The District of Columbia ranked first overall with a B-, while Wyoming came in last with an F. (You can see the full report and how your state rates at emreportcard.org.)
In evaluating each state, the ACEP measured a total of 136 variables that affect how many people need the ER (demand) and how many needed resources are available to take care of them (supply). These included the number of ERs and ER doctors, the number of inpatient beds, resources for mental health, the number of hospital closures, state funding for health quality improvement, use of electronic medical records, availability of state prescription drug systems, poor medical liability reform, state efforts to prevent injuries, accidents and traffic fatalities, distracted driver reform and even how well the state prepares for mass disasters.
So, what accounts for the problems?
Not enough doctors -- especially ER doctors, neurosurgeons, orthopedists, hand surgeons and ear, nose and throat doctors. This means that not only is it hard to see these doctors if you need them as an outpatient, but many hospitals don't have them on call. As a result, ER patients needing a specialist have to be transferred to a hospital where one can be found.
Too many patients. The expansion of Medicaid under the Affordable Care Act to more of the poor and uninsured has meant more ER visits for the newly covered. A recent study out of Oregon showed that having Medicaid coverage increased a person's use of the ER by 40%. Even those patients with private insurance are sent to the ER -- four in five patients who contacted their primary care physicians were told to "go to the ER" to receive complex workups and admissions for acutely ill patients, according to a RAND study in 2013.
Disaster UN-preparedness. Having been in Boston during the marathon bombings last spring, I saw the life-saving impact of a well-funded, well-trained emergency system. On that day, we saw that having a robust EMS system to communicate with doctors and triage the patients, having many ER, trauma surgery, neurosurgery and orthopedic surgery doctors and nurses available, and the resources (ER beds, inpatient beds, ORs) that they needed meant the difference between life and death. Unfortunately, many states can't compare. Seven states received Ds and 14 (Delaware, Hawaii, Idaho, Illinois, Indiana, Maine, Montana, Ohio, South Carolina, Utah, Vermont, Washington, Wisconsin and Wyoming) received Fs for their disaster prep.
High accident rates and low vaccination rates. In either case, more patients will need to be seen in the ER. My home state of Georgia has the second highest vaccination rate in the nation for early childhood (excellent!) but one of the lowest rates for flu and pneumonia vaccination in older adults. Georgia also has thethird lowest rate of alcohol-related traffic fatalities, but some of the highest rates of bicyclist and pedestrian fatalities in the nation.
Hospital closures. Despite increased need, decreased government funding (in the forms of lower Medicare/Medicaid payments and state subsidies for uncompensated care) caused 19 more hospitals to close in 2011, taking ERs with them.
The good news is that these poor grades were not for the quality of doctors and ER care. In spite of the country's overall poor grade, the one thing you can count on is the dedication, top quality and work of those ER doctors, nurses and staff in the trenches every day. But no matter how great the players, a system without adequate federal/state support can develop weaknesses. For something as integral as our emergency care -- that's not something that any of us can afford.
What can you do to ensure that you and your family have care when you need it?
Make a point of going to the same hospital whenever one is needed. That way, if you have an emergency, the healthcare providers have a better chance of accessing your records and reaching your doctor.
If you have a specialist that you've seen before, call his or her office first if you're having a related emergency. You'll either get fitted in for an appointment or you'll be directed to the appropriate ER -- as opposed to just going to the ER and hoping your doctor is on call.
Know your town's stroke and heart attack centers. If you're having a heart problem and all ERs are the same distance from your location, consider going to that ER.
Go to emergencycareforyou.org to learn more.
Medically reviewed in February 2020.