Reasons for cosmetic surgery vary between patient to patient. Body self image and self esteem go hand in hand. With the appearance and the world of "celebritism" a person's appearance is more focused on now than ever. As a result cosmetic surgery procedures both minimally invasive as well as invasive are more common than ever. As women faces continue to age and wrinkles continue to form, non invasive procedures such as Botox, JUVÉDERM, Radiance, and collagen become more prominent. As women's bodies continue to age and sagginess ensues, breast implants, lifts, and abdominoplasty or tummy tucks become more and more popular. Women who have had children also are large candidates for Mommy Makeover procedures. Magazines covers and television programs about cosmetic surgery transformation abound, and as a result the numbers of women undergoing cosmetic procedures will only continue to increase.
The only reasons for cosmetic surgery are to improve the body's appearance and to enhance self-esteem. (Cosmetic surgery is quite different from reconstructive surgery, which is generally performed in response to trauma, abnormalities, or disease and is intended to improve function or project a normal appearance). Of course, wanting to look good is a common goal.

In many cultures throughout history, people have modified the human body to make it more attractive according to the standards of the day. We tend to see some past modifications -- foot binding, for example, and the use of corsets that distorted women's rib cages -- as barbaric, yet today's efforts to "improve" the female body also can have harmful physical effects. Some plastic surgeons clearly describe their surgical field as "experimental," relatively new, and often marked by an incomplete disclosure of physical harm.

Cosmetic surgical procedures promise us the appearance of ideal youth (which few young people even have). Underlying all of this is the clear message that we are not acceptable as we are. Our midlife and older years, in particular, are to be denied and hidden.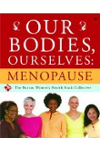 More About this Book
Our Bodies, Ourselves: Menopause
FROM THE EDITORS OF THE CLASSIC "BIBLE OF WOMEN'S HEALTH," A TRUSTWORTHY, UP-TO-DATE GUIDE TO HELP EVERY WOMAN NAVIGATE THE MENOPAUSE TRANSITION For decades, millions of women have relied on Our...
Continue Learning about Cosmetic Surgery