Scarring is what occurs when the body heals an external incision site. Plastic surgery scars can look:
Great, hardly even visible
Average, visible, but not bad
Awful, to the point of feeling disfigured
Your scars, or lack thereof, will be the result of a combination of issues, including genetics, overall health, skin type, and skill of the surgeon. A bad result isn't necessarily the fault of the surgeon nor is it the fault of the patient. However, the skill of your surgeon and how you take care of yourself after surgery do play a significant part.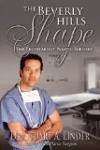 Continue Learning about Cosmetic Surgery