There are multiple approaches for Gynecomastic surgery. In the mildest approach, direct liposuction of the chest can be performed under general anesthesia. This will allow fatty tissue to be removed. If, however, there is also a significant amount of glandular and/or fatty tissue behind the areola, this generally cannot be removed by liposuction alone, and often the patient will undergo a direct extraction of this glandular tissue through an incision underneath the nipple. This procedure is usually referred to as a partial subcutaneous mastectomy.

In the most extreme forms of gynecomastia, where there is also a significant amount of loose skin, the patient may actually undergo a form of breast reduction operation. It is a very similar operation to what I perform on women. It does leave an anchor-like scar straight down the middle of the breast and along the crease, but this kind of incision has to be done in order to allow removal of excess skin as well as glandular and fatty tissue.

Normally, patients remain in compressive garments for six to eight weeks after surgery to decrease the swelling. Sutures are most often removed by the 14th day after surgery, and all patients are told to refrain from heavy lifting for three to four weeks postoperatively.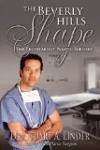 Continue Learning about Cosmetic Surgery