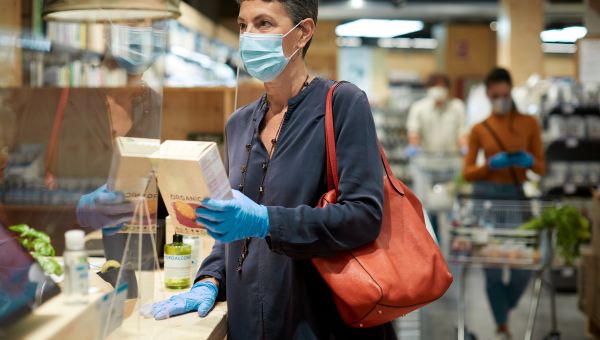 Consider these safer, creative ways to enjoy the holidays.
Updated on November 23, 2020 at 5:00pm EST.
Thanksgiving week has arrived and the number of confirmed coronavirus cases in the United States has surpassed 12 million. Most states are seeing a surge in new infections as the pandemic enters its eighth month, and the world anxiously awaits a safe and effective COVID-19 vaccine.
The Centers for Disease Control and Infection (CDC) continues to urge Americans to stay home on what is typically the most travelled holiday of the year. It's important to avoid even small get-togethers.
"In the majority of states, we are seeing an upsurge in the virus, and small gatherings, especially family gatherings, are fueling the surge," says William Schaffner, MD, medical director of the National Foundation for Infectious Diseases and professor of infectious diseases at Vanderbilt University Medical Center in Nashville, Tennessee. "I hope we can get back to almost normal for Thanksgiving 2021, but this year we have to adhere to a 'new normal' that limits gatherings."
While that may be hard to hear, it's necessary to help curb the spread of COVID-19 and protect your community as well as the people in your own home.
As of November 23, COVID-19 has killed more than 255,000 Americans. "It's stunning," adds Schaffner. "And one year where we have to modify our behavior is not a big sacrifice."
Thanksgiving isn't cancelled
Still, that doesn't mean you can't celebrate Thanksgiving. In fact, it's just the opposite. It's important to remember to be thankful for what you have—even when it feels like the bad news keeps overshadowing the good.
"Holidays tend to trigger a range of feelings in people, including grief, and this year may complicate those feelings," says Asha Tarry, LMSW, a psychotherapist and life coach in Brooklyn, New York.
You can celebrate the upcoming holidays with friends or family—it just might take some creative thinking and look a bit different this year.
"Think about what you want most and do what you can but be realistic and reasonable," Tarry advises.
Here are some expert tips on how to enjoy a safe Thanksgiving and holiday season:
Be clear about expectations. Don't wait to discuss holiday plans with your friends or loves ones. People have different tolerance levels regarding the risk of COVID-19, Schaffner explains, noting that some people behave very differently than others. For example, you may feel much more strongly about not traveling, wearing a mask and maintaining social distance than someone else.
"You'll have to decide who will be able to join you depending on what they've been doing and where they live," Schaffner advises.
Know before you go. If you or your relatives plan to travel for the holiday, it's also important to consider local disease activity and case rates not only where you live but also at your destination. Having a gathering with people from different places is a higher-risk activity than when people who reside in the same area convene, according to the Centers for Disease Control and Prevention (CDC).
Before getting together, agreeing as a group to quarantine for two weeks ahead of time can help prevent anyone from spreading COVID-19 unknowingly, the CDC advises.
"Getting tested isn't a bad idea, either," says Schaffner. He notes, however, that testing only tells you your status on that day. "The rapid tests that are available can also produce false negatives, meaning the test comes back negative for the infection when you're really positive," Schaffner adds.
It's also important for people who plan to attend a gathering to take their temperature before they arrive and not ignore or dismiss any flu-like symptoms. Anyone with COVID-19 symptoms and those who are waiting for COVID-19 test results or were exposed to someone with COVID-19 in the past two weeks should remain at home to avoid potentially spreading the infection to others.
If possible, opt for a road trip. It's better not to travel at all while COVID-19 cases continue to rise around the country. But if you must, opt for a road trip because it's easier to control than flying, according to Schaffner. "You can get take-out or drive-through food on the road," he says. "And if you need to use a public restroom or pump gas, do it quickly and wash your hands afterwards."
In contrast, when you fly, you may be forced to linger in lines and airport terminals. The air on planes is filtered and circulates, which helps limit the spread of viruses and other germs. But it may be difficult to keep your distance from others on a long, crowded flight and you'll be exposed to many commonly touched surfaces, the CDC cautions.
Focus on family—not food. Thanksgiving often centers around a large meal but this year, consider making the holiday more about people. Skip the meal and gather for a social hour instead, Schaffner suggests.
"We usually have people over for Thanksgiving, but this year we are having a meal at our house with the immediate family and then going for an hour to another house just to say hello," he explains. "There won't be any food or drink, hugging, kissing or shaking hands, and we'll wear masks and stay 6 feet apart."
Keep it simple. The lowest-risk option is to have dinner at home with only the people who live with you. If you host a get-together, limit the number of people you invite. The CDC doesn't offer a "safe" limit or precise number of guests to have in your home, but the fewer people you host, the better.
It's also important to ensure that everyone is mindful of the precautions needed to help prevent the spread of COVID-19, Schaffner advises. This means guests should be sure to avoid touching and be careful about washing their hands, maintaining social distance of at least 6 feet and wearing a mask or cloth face covering.
"Limit the amount of time people are eating and drinking and set up TV and bridge tables to separate groups of people from one another," he recommends.
Make sure you have good ventilation indoors. Indoor gatherings are inherently more risky than outdoor get-togethers because of the more limited air circulation. COVID-19 spreads from person to person through direct contact or droplet transmission. It can also spread through the air.
Contact transmission includes direct exposure to someone who is sick. This includes shaking hands, hugging or kissing. It can also occur when people touch a contaminated surface and then touch their mouth, nose or eyes.
Those who are sick can also infect others when contaminated droplets from their coughs or sneezes land in a nearby person's mouth or nose. Droplets can also travel about 6 feet before settling on a nearby surface where they can persist for hours or, for some viruses, even days.
The CDC also warns that under certain conditions, the coronavirus could spread through the air in contaminated aerosols—particles even smaller than respiratory droplets that may waft and accumulate.
The agency notes that this is more likely to occur indoors, particularly in areas with poor ventilation. So, if you attend an indoor gathering, keeping windows and doors open can help.
If possible, take the celebration outside. Hosting a Thanksgiving gathering outdoors can help reduce the risk of spreading COVID-19. When you're outside, it's easier to maintain a safe distance. Air is also constantly moving, helping to disperse potentially contaminated respiratory droplets or aerosols that could make someone sick.
This may seem more appealing when the weather is warm but it's doable even in northern areas of the country—with some planning and a little imagination.
For example, rather than sit around a dining room table drinking coffee and eating pie, arrange chairs 6 feet apart around an outdoor firepit and sip hot cocoa. Instead of sitting in the living room by a fireplace, take your gathering outside to a deck or patio and set up heat lamps to keep everyone comfortable. Remember, safety precautions still apply to outdoor gatherings. "Be sure everyone wears masks and stands 6 feet apart," Schaffner says.
Host a virtual Thanksgiving meal. No, it won't be the same, but it could still be comforting and fun. "Engaging our five senses with things like scents and tastes that make us feel connected to each other is particularly important this year," Tarry says.
Try sharing your traditional recipes with everyone in your group, cook together and eat together via Zoom or another video conferencing platform. If you and your loved ones live nearby, you could even prepare favorite foods and drop the dishes off ahead of time.
It may not be the Thanksgiving you wanted and it may be hard to forego certain traditions, but everyone is dealing with some degree of risk, stress, loss and disappointment. Try to adapt as best you can to a difficult situation, Schaffner urges. Rather than dwell on the downsides, he adds, keep your eyes up and look ahead to better days to come.
Medically reviewed in October 2020.
Sources:
Centers for Disease Control and Prevention. "Coronavirus Disease 2019 (COVID-19): Holiday Celebrations." Sept 21, 2020.
Institute for Health Metrics, University of Washington. COVID-19 Results Briefing: United States. Model Updates for Oct 15, 2020.
Fishman MDC. "The Silver Linings Journal: Gratitude During a Pandemic." J Radiol Nurs. 2020;39(3):149-150.
Centers for Disease Control and Prevention. "Coronavirus Disease 2019 (COVID-19): Know Your Travel Risk." Oct 21, 2020.
Centers for Disease Control and Prevention. "CDC Updates 'How COVID is Spread' Webpage." Oct 5, 2020.
Centers for Disease Control and Prevention. "Coronavirus Disease 2019 (COVID-19): Deciding to Go Out." Sept 11, 2020.
Mayo Clinic. "Safe outdoor activities during the COVID-19 pandemic." Aug 5, 2020.